Timber is a key material in the Kendeda Building for Innovative Sustainable Design.  Currently being built on Georgia Tech's campus, the Kendeda Building will be the largest academic building in the Southeast designed to achieve certification under The Living Building Challenge, the most rigorous criteria for sustainability in the built environment. Rather than minimizing negative environmental impacts, the Living Building Challenge calls for regenerative design that has a long-term net positive impact on the surrounding environment and ecosystem.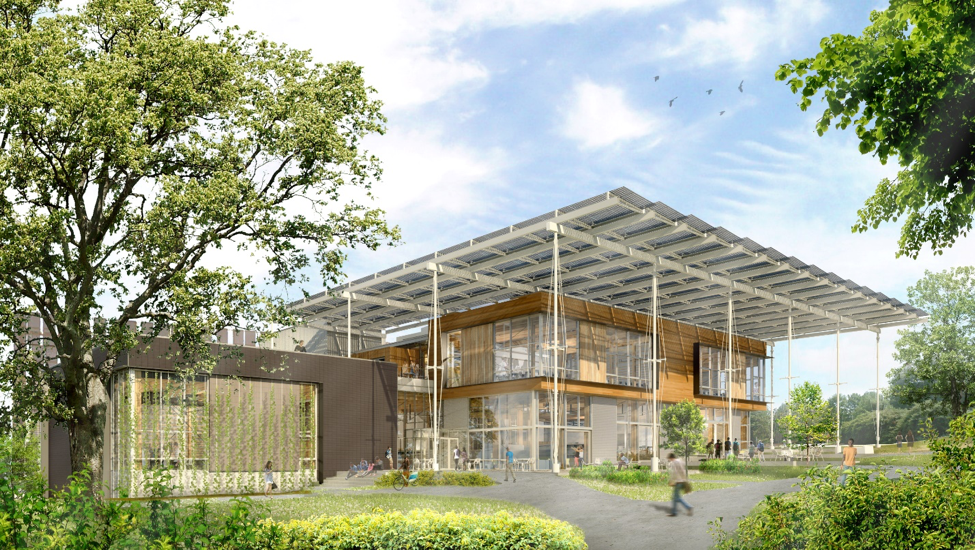 Georgia Institute of Technology and the Kendeda Fund are collaborating to develop the building. The team assembled to design and construct the building includes Lord Aeck Sargent, Miller Hull Partnership and Skanska USA.
The use of mass timber technology is one of the most distinctive features of the Kendeda Building. Timber was chosen for its value in reducing the carbon footprint contributed by construction materials. On top of glulam columns and beams, the decking is made of nail laminated timber (NLT) panels constructed in partnership with Georgia Works. The decking is composed of 25,000 square-feet of locally salvaged wood and FSC-certified southern yellow pine. To construct the NLT decking, the team nailed 2"x 6" boards to 2"x 4" spacers, creating 489 floor panels that measure roughly 10'x10' each.
"The floor decking is one of the most innovative components of the project," says Jimmy Mitchell, Skanska's lead project manager for the Kendeda Building. "That innovation has both realized savings for Georgia Tech and created a beautiful aesthetic for the building."
The Kendeda Building is still in construction – watch the progress here and follow along for updates on LinkedIn. The building is expected to be completed and opened next fall and Living Building-certified in 2020.